Allis-Chalmers 616 Hydro
I had a problem with Allis-Chalmers 616 Hydro; the belt came off and it took me a while to figure out how to put it back on. When I looked on the Internet for a diagram to thread the belt I couldn't find one. In case you have the same problem, I have created one.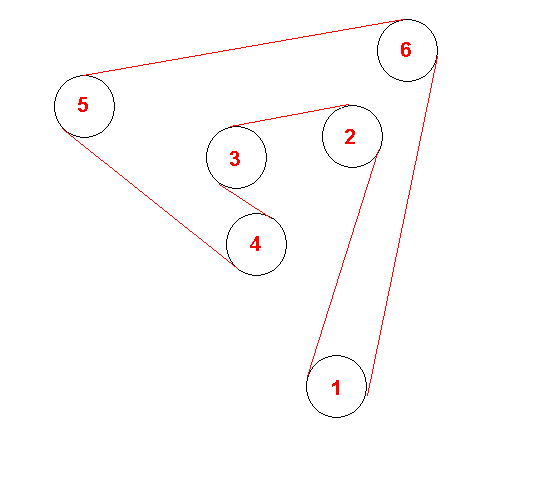 I do not know why I did this, but the front of the tractor is the BOTTOM of the diagram.
| Pulley Number | Function |
| --- | --- |
| 1 | Drive Pulley (hooked to engine) |
| 2 | Static Pulley (only guides belt) |
| 3 | Tensioning Pulley (moves to engage blades) |
| 4 | Middle Cutting Blade Pulley |
| 5 | Right Cutting Blade Pulley (my belt is on the bottom of two pulleys on the shaft) |
| 6 | Left Cutting Blade Pulley |
Here are some pictures of the belt in case you find that helpful. The first is taken fromt he right side of the mower.
These are taken from the left side of the mower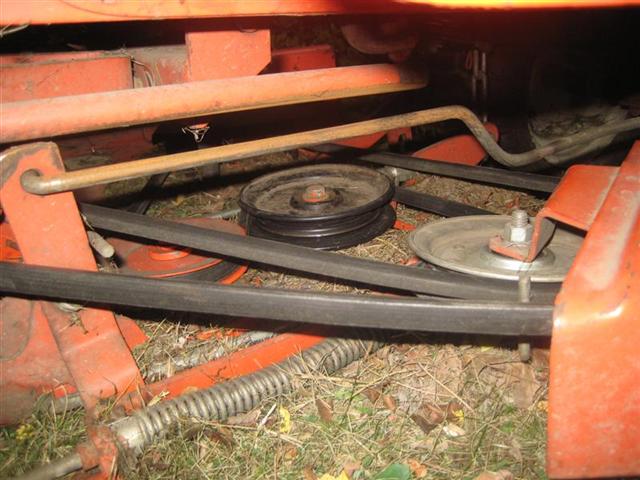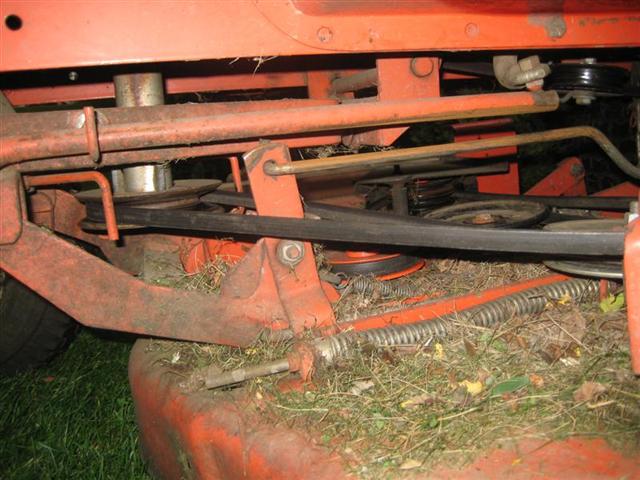 [2009] I guess the belt was just waiting to break because that happened at the beginning of the mowing season. I had to order a new one and guess at the size. It seemed like the old one was 118.5" long. Maybe it stretched and was originally 118". The local mower repair shop had a 117" belt that they let me try out. I could bring it back if I didn't cut or get it all greased up. With that in mind I tried it out. Even with the tensioner all the way out it was pretty tight. I returned it and ordered a 119" belt (if it were an Allis Chalmers deal they may have been able to get the exact belt). As it was, I just bought an after-market belt for under $30 and that seems to be working. We'll see how durable it is; that old one mowed a lot of grass. (Glad I had that diagram! The first time the belt was just off some of the pulleys and that took me longer than I thought it would, this time my son handed it to me.)
[2011] Got a note from Jerry who indicated that he needed a belt and was looking for the correct size. I couldn't help him but he did some research and dropped me a note back saying he picked up an OEM belt that is 120" and it works like a charm!
Questions? Send a note to:
nick
@
maikoff.net
| | |
| --- | --- |
| Home | ©2009 Timothy N. Maikoff |