C.A.M.E.R.A.
If you are looking for a good camera show to buy or sell used camera equipment (bodies, lenses, etc.) this is the place to go. Vendors come from all over to set up tables. They occur in the fall and spring. If this is like last year, the next one after this will be in March 2012 (or around then).

A mailing address for them is (I suppose they will add you to their list if you ask):
C.A.M.E.R.A.
P.O. Box 2793
Glenville, NY 12302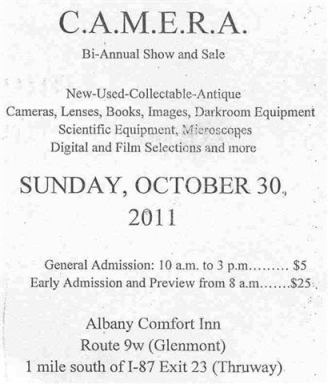 DIRECTIONS: Albany Comfort Inn, Route 9W (Glenmont), 1 mile south of I-87 Exit 23 (Thruway).


Back to links page.